Finnish, Born 27th February 1990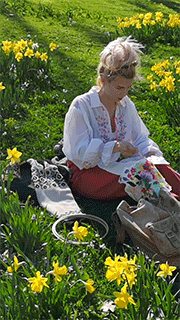 Bold because she is powerfully romantic, intense in colors, lush in every element: one would love to meet the guys she portrays!
Incredible because her work is dimensional and deep, handcrafted and multi-layered, rich in materials and juxtapositions.
We love the richness of her details, the time-machine feeling of past and present creating a new future, the dandyness and the chivalry.
We look forward to getting lost and being fascinated by a masterpiece that tells the story of these new romantic heroes, allowing us to discover more about their lives and their loves.
The artwork is a deeper look at the life of the man in my fashion collection. It depicts the loves and memories of this romantic man and tells the story of his life. In the artwork I wanted to maintain the same time-machine feeling of the past and present of the collection.
Swatch Award
We were enchanted by her ability to transport us into the intimate and intricate world of her gentleman, we admire how she showed an amazing craftsmanship, a multifaceted approach and a generous ability to layering. She achieved being meaningful and intriguing, pushing her own vision to the max and embracing the briefing with openness.