British, Born 24th January 1994
ITS TIME FOR COFFEE Award winner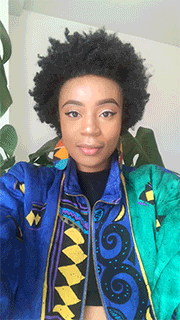 Bold because she is powerful, daring, presenting work around the idea of an extended family, individual yet tribal in a modern way, carrying a strong message.
Incredible because she is subtly romantic, layered, ironic, beyond fashion.
We love the way she juxtaposes bold and delicate, uniting kids and adults, embracing a whole community with one powerful style yet leaving everyone be individually free.
We look forward to a powerful and punchy message, a manifesto of freedom and creativity, a masterpiece celebrating diversity and urbanity.
This project celebrates diversity by giving a platform to one of society's most unheard voices – that of a black woman. Depicting the history of my London council estate, this artwork brings together the old, young traditional and modern, shining light on the wealth of talent, strength and power which black women have long exhibited here, and for which they are rarely acknowledged for.
ITS TIME FOR COFFEE Award
We love her vision.
We love her skills.
We love her story.
We love her personality.