British, Born 24th January 1994
DIESEL Award winner
Vogue Talents Special Mention winner
REPLICA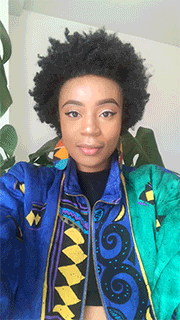 Tolu explores people's identities as a replication of their life experiences, surroundings, struggles, accomplishments, belonging and un-belonging. It also concurrently comments on the culture of stereotypes, assimilation and appropriation. Deconstruction is definitely a key theme, both figuratively and literally, throughout the collection. This, together with identity, gender, race and religion comes through in the illustrative style of the prints which feature portraits, family photos and key personal memories from Tolu and from those she documented.
DIESEL Award
Tolu is creative, consistent, with a strong belief in her vision and message. She loves to explore material and technique and brings garments alive through artwork and details.
Vogue Talents Special Mention
For a concrete vision on today's political situation and for underlining traditional craftsmanship with a modern twist, a street vision and an eye on daily happenings.